So, I'd never heard of this ship_manifesto thing until a few days ago, and I kind of made light of it at the time, but then I read some of the manifestos, and now I want to write one. Also, I'm procrastinating.

So here's a rough draft. Tell me what you don't like.

Sam/Castiel: It might be crack. Or it might just be the little underdog ship that could.

Sam/Cas, or ~SASSY~, started out as a crack ship. However, continued interactions between the characters have inspired some of us to take it seriously. Each of them make up one half of the two most popular ships in the SPN fandom, with the same character, Sam's brother Dean. Sam and Dean are the main characters of the show, and their epic love is epic. Castiel entered the show in its fourth season and was promptly slashed with Dean, with whom he does enjoy long staring contests and heart-to-heart talks. In fact, Sam and Cas had very little interaction on the show at all through the fourth season. But as we progress through the fifth season, they have increased interactions and some of those interactions? Have been incredibly slashy.

So why ship it?

First of all, because it's funny. Fandom can be srs bsns sometimes, when the arguments over whether Sam/Dean or Cas/Dean get a little too heated, it's fun to ~SASSY~ it up a bit.

Second, it's hot. Also, Sam's about six inches taller than Cas. Who doesn't like a little size kink? Plus, look at the beautiful hair, you guys.

Third, although Sam and Cas are on the same side (Good), they haven't, historically, had the same ideas about how to achieve their goals. There's just so much potential there.

Finally, Sam and Cas are both nerdy and brainy. Like
echelon_002 says, "...they will likely annoy Dean someday by speaking to each other in Latin."

The characters: Sam Winchester
Sam has had a rough year, what with accidentally unleashing the Apocalypse. Oops. But hey, we all make mistakes. He spent the last couple seasons being deceived by a demon - despite his professed faith in god, and his belief in angels, even before their existence was confirmed by canon. As early as season 1, Sam's always been more of a believer in things that can be holy (Faith, for example). In season 2's Houses of the Holy, we see that Sam does believe, and is rather enthralled by angels. Which is why he spazzes out like a fanboy the first time he meets Castiel and we get this kind of EPIC moment: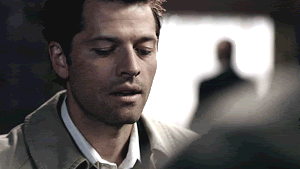 This is part of what makes Sam/Castiel so intriguing: Sam's been secretly in love with angels ever since season 2! There's the religious mytharc of the show tying into their interactions–Sam was the believer contrasting Dean's skepticism; and Castiel is the physical manifestation of that belief.

But it took awhile to get there: when Sam first met Castiel, he was incredibly excited, but what he saw was a huge letdown.

Sam: I thought they'd be different.

Dean: Who, the angels?

Sam: Yeah.

Dean: Well, I tried to tell you.

Sam: I just…I mean, I thought they'd be righteous.

Dean: Well, they are righteous, I mean, that's kinda the problem. Of course there's nothing more dangerous than some a-hole who thinks he's on a holy mission.

SAM: But, I mean, this is God? And Heaven? This is what I've been praying to?

As
woodstarling says, "Sam's faith has always been a factor in why I ship Sam/Cas. As Castiel has grown as a character, rebelled some, learned that not everything he's ordered to do is the "good" thing to do, even if they tell him it's "right", I can see him wanting to prove to Sam that there is still something to believe in, that there's some good out there."

The characters: Castiel
Castiel is an angel of the lord, but his friendship with Dean Winchester ultimately led to him being cut off from heaven. He is slowly becoming more humanlike as time passes. He even has a cell phone now! (He's not totally clear on how it works, though.) As his link to heaven fades, his link to the Winchesters grows - and not just with Dean, as it seemed in Season 4, but also with Sam. He is, in fact, willing to die for him.

Castiel: You are not taking Sam Winchester. I won't let you.

Lucifer: Castiel. I don't understand why you're fighting me, of all the angels.

Castiel: You really have to ask?

Lucifer: I rebelled, I was cast out. You rebelled you were cast out. Almost all of heaven wants to see me dead and if they succeed, guess what? You're their new public enemy number one. We're on the same side, like it or not, so…why not just serve your own best interests, which in this case just happen to be mine?

Castiel: I'll die first.

Lucifer: I suppose you will.

Or, he would kill for Sam:

Anna wants to kill Sam as a prevention measure. Castiel thinks their goal can be achieved with other methods.

Anna: How's that going? How's the Colt working out or the search for God? Is anything working? If you want to stop The Devil, this is how.

Castiel: The answer is still no. Because Sam is my friend.

Anna: You've changed.

Castiel: Maybe too late, but I have. Anna we've been through much together, but you come near Sam Winchester and I'll kill you.




***

I need some quotes, some images, and some fic recs. Help a girl out, y'all.